In addition to Sunday morning Bible study classes, we have a weekly women's Bible study on Thursday nights at 6 p.m.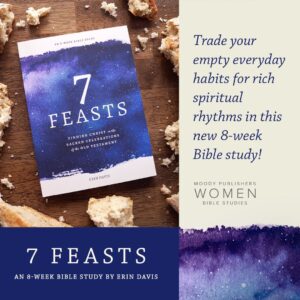 A new study on "7 Feasts" by Erin Davis begins on Thursday, 3/24.
Stay tuned for more information for a beach retreat.
The dates are set: July 21-23
Also in the works is a conference in the Fall of 2022 or early 2023!
We want you to join us for our next study! "Adorned" by Nancy DeMoss Wolgemuth, Revive Our Hearts Ministry.
The Titus 2 model of older women living out the gospel alongside younger women is vital for us all to thrive. It is mutually strengthening, glorifies God, and makes His truth believable to our world.
Imagine older women investing themselves in the lives of younger women, blessing whole families and churches. Imagine young wives, moms, and singles gaining wisdom and encouragement from women who've been there and have found God's ways to be true and good. Imagine all women—from older women to young girls—living out His transforming gospel together, growing the entire body of Christ to be more beautiful.
This is Christian community as God designed it. Read this book & join us for this study so we can take out relationships to new depths, and our your lives might find its fullest meaning as we adorn the gospel of Christ.
Start date will be either the last Thursday of May or the first Thursday of June. Details coming soon.
Please feel free to share this information and invite others!
Love,
Lindsay
Let me know if you'd like me to order your materials. The more we order, the lower the price.
In 2022, we will again read t
hrough the Bible together focusing on foundational passages and using the H.E.A.R. journaling method as outlined in Foundations written by Robbi & Kandi Gallaty. The readings will be posted weekly to our Facebook group. If you would like to be added to the group, please contact Lindsay at (936) 661 – 9207.
If you are not on Facebook, Lindsay can send it to you another way.
We love to grow together in God's Word and are always looking for opportunities to do that.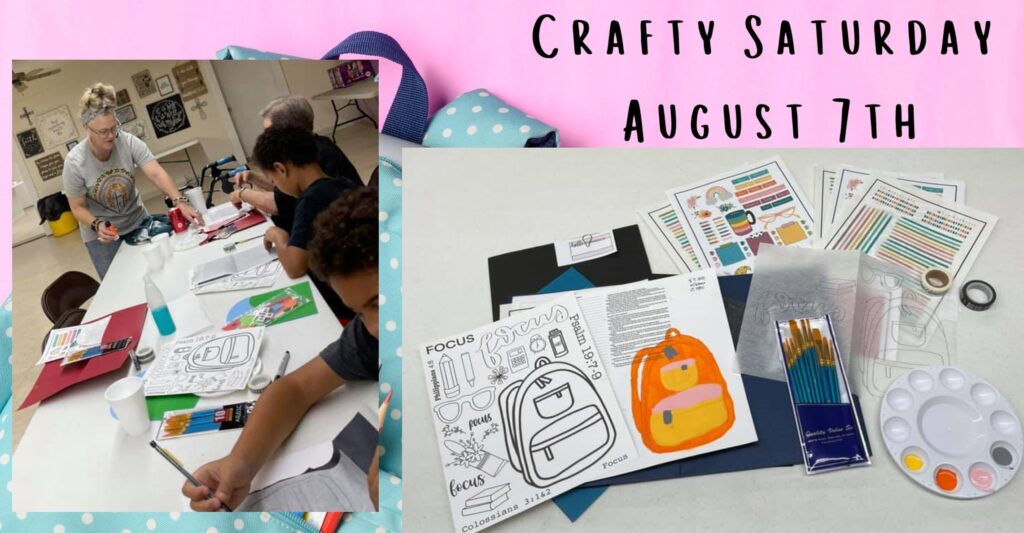 We recently had our first
"Crafty Saturday."
Stay tuned for other opportunities.
We had a SWEET time at our retreat!
We are already looking to do it again…maybe this fall! Stay tuned!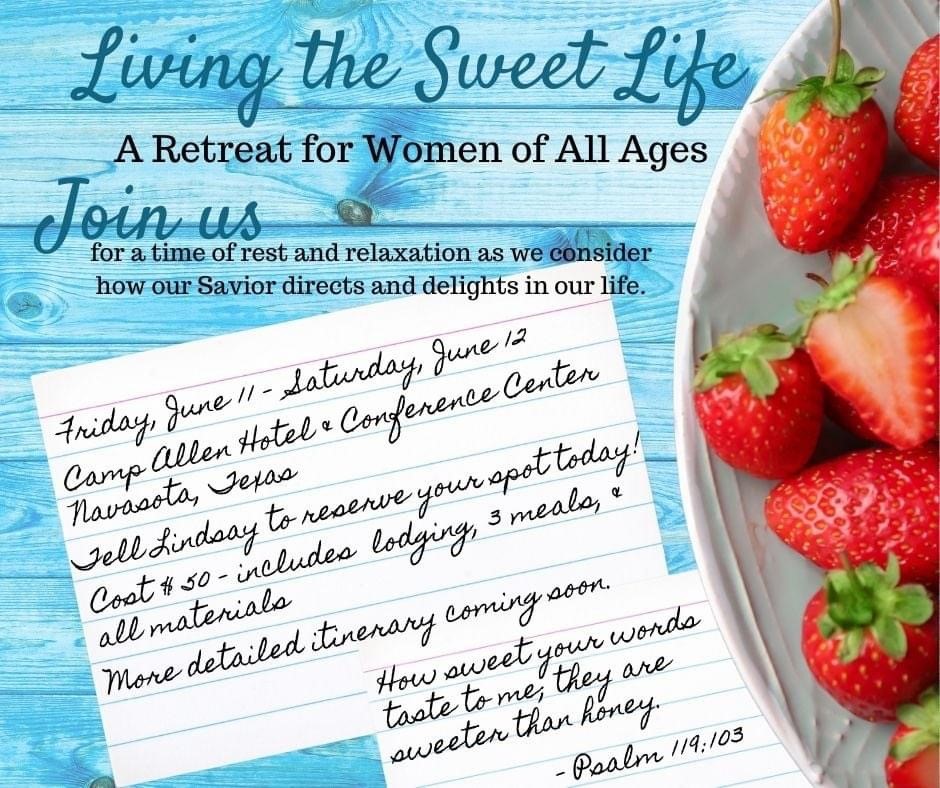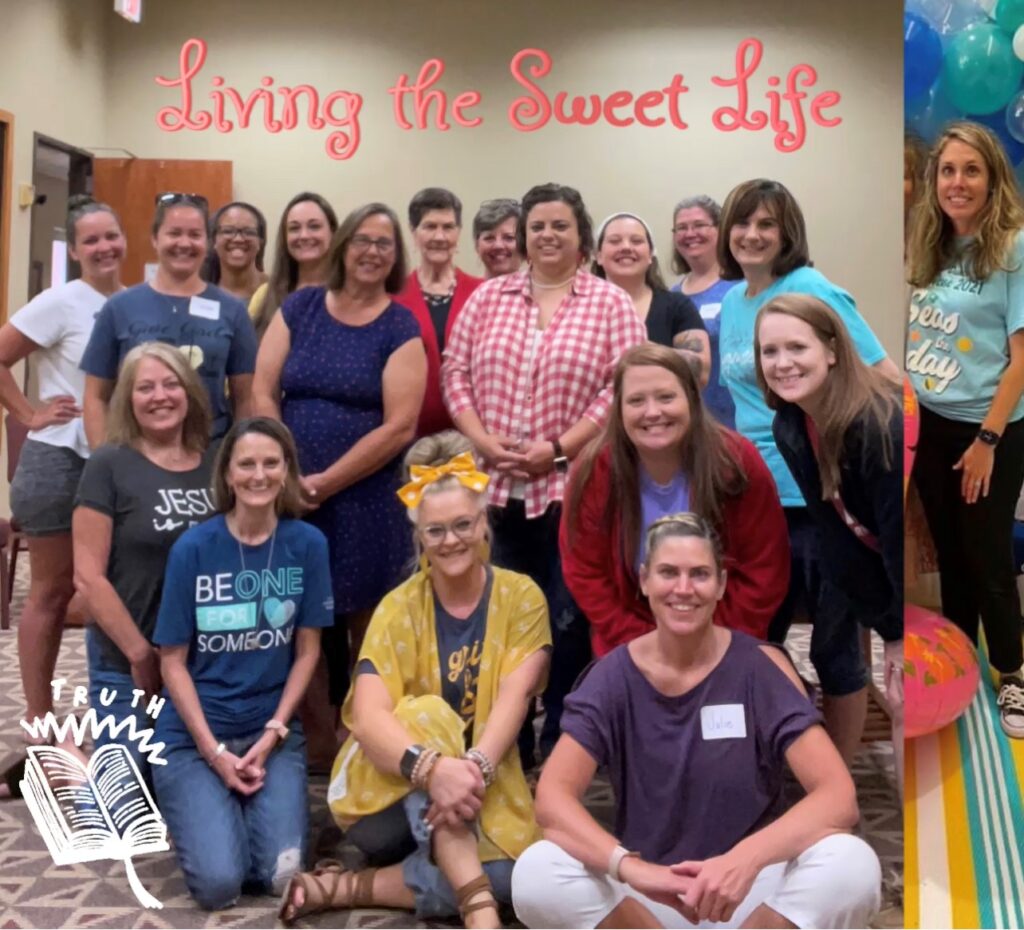 Listen to the first message from our 2019 Women's Conference:
speaker, Debbie Stuart:
Day 2 of the conference, speaker – Debbie Stuart is available by CD. Ask Lindsay.
Our first time to host a women's conference was nothing short of AMAZING. We are so thankful for the Lord providing for us in each and every way and the opportunity to host an event such as this. We can't wait to do it again! Click the flyer below to view the photo album.
Lifeway Women's "Word Alive" with Lysa Terkeurst and worship led by Ellie Holcomb was beyond amazing. What a beautiful experience we had with the Lord. Looking forward to Women of Faith's "Sisters: Celebrating the Art of Friendship."
Just a few of our previous fun times of fellowship with our sisters in Christ:
please view the
ministries
page
for contact information.